Birth Control is actually something Hubby and I have been talking about a lot. Reese is about 11 weeks old right now- almost 3 months. I am breastfeeding but we all know that you CAN get pregnant while breastfeeding because your body (always?) ovulates before your period. So I will have a month where I can possibly get pregnant before I restart getting my period.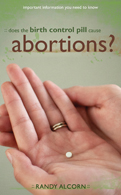 Hubby and I were married in 07 and at first I was on BC. Then I read
this article
by Randy Alcorn that changed all that. In his article he states that ALL hormonal birth control methods prevent pregnancy in 3 ways:
"1.inhibiting ovulation 2.thickening the cervical mucus, thereby making it more difficult for sperm to travel to the egg, and 3.thinning and shriveling the lining of the uterus to the point that it is unable or less able to facilitate the implantation of the newly fertilized egg. The first two mechanisms are contraceptive. The third is abortive."
Wow, could he be right? As a Christian I believe that life begins at conception, at fertilization, the moment the sperm and the egg meet together. After that moment, if nothing interferes, that egg and sperm mix will implant and become a baby. I researched it further and found that right there on my birth control it states that regular use prevents release of an egg (ovulation), makes it difficult for egg and sperm to meet (fertilization) but also for a fertilized egg to attach to the wall of the womb (implantation).
I stopped taking the pill right then and there. That was in Dec '08. From then on I tracked my cycle on
my iPhone
and Hubby used the ol' pull-n-pray method (TMI?) We finally decided to start TTC in June '10 and I found out I was pregnant with Reese in July '10. Such a blessing that we got pregnant on the first try, I know. After we had her we began to talk to our OBGYN (whom we LOVE and is a christian, too) about our birth control options. We discussed our concerns and my OBGYN prescribed me norethindrone, or the mini-pill. I was assured this progesterone only pill did not prevent implantation but when I got my leaflet with my prescription there it was , right in the uses section "prevents pregnancy by changing the womb and cervical mucus to mak it more difficult for the fertilized egg to attach to the wall of the womb".
I double checked the Randy Alcorn article. I checked
webMD.
I checked the
physicians desk reference
. I checked every resource and there it was again and again in black and white. Hubby then said something to me that finalized my decision. He said "If we have any doubts then we should error on the side of not using it.
I wouldn't want to get to heaven and know that we could have had a baby but didn't.
"
So now we are at a crossroads. We certainly don't want to be pregnant again at this point with a 3 month old, we don't want to use hormonal birth control, and we can't use our previous method. Yes, we know the other options, but they're just not as fun. So, hopefully we can just be super careful (risky!) and won't get pregnant until we want to TTC again. If we do get pregnant though, it''ll just be another amazing little blessing like Reese!